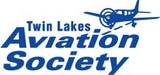 Email Us
Phone: 870-481-5418
Visit Our Site

6462 Hwy. 126 N.
Midway, AR 72651

Twin Lakes Aviation Society

Support the Twin Lakes Aviation Society by
purchasing these products.

- Tote Bags
- Caps
- T-shirts

Please allow 4-6 weeks for delivery.

If you prefer, you may place your order by calling
Brooks-Jeffrey Marketing at 870-425-8064.
Phone orders may be picked up at Brooks-Jeffrey
Marketing, Inc., 19 Medical Plaza, Mountain Home,
to avoid shipping charges. Please call ahead.