State Confirms Record Striped Bass was Caught at Bull Shoals Lake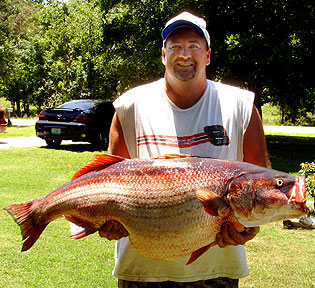 FORSYTH, MO. - One of the reasons some people find fishing endlessly fascinating is the element of chance it involves. Regardless of what you are fishing for, you never know what is going to turn up at the end of your line. Greg Blair spun the wheel of fishing fortune and came up with a 56-pound winner.
Blair and his cousin Derek Blair, both of Bradleyville, were fishing the upper reaches of Bull Shoals Lake in the early morning hours of July 13. The temperature was a pleasant 70 degrees or so, but a misting rain kept them alert for their quarry, trophy striped bass.
"There had been several around 40 pounds caught, and guys fishing from the bank had lost a lot of lures," Greg said. "I was fishing a King Kong. It is a kind of oversized jerk bait with four segments. It is about as big around as a half-dollar and looks kind of like a snake coming through the water.
Apparently striped bass have no fear of snakes, because a big fish nailed Greg's lure and headed for the bottom of the lake. The fish was all the angler's baitcasting reel spooled with 17-pound-test line could handle.
"He didn't do a lot of head shaking like smaller striped bass do," said Greg. "He was just strong. He took off for the bottom. We were in about 35 feet of water. I kept bringing him back to top and he kept going back down."
When Greg finally got the fish to the surface he realized that the landing net he normally used for largemouth bass was completely inadequate. Derek got the net under the fish's tail, but it only came about halfway up the striper's 47-inch body.
"I tried to grab it by the gills to pull it into the boat and about that time the lure came loose. We were sure glad when he finally hit the bottom of the boat."
Then they faced another problem. The monstrous striper would not fit in the boat's live well, so they wrapped it in a damp towel and left it in the bottom of the boat while they continued to fish.
"When one of you catches a fish like that, you want the other guy to catch one, too," said Greg. "We fished for another three and a half hours or so until Derek landed a 35-pounder, and we were done."
Naturally, they were curious about how much Greg's fish weighed. However, neither of the anglers had ever seen a 50-pound striper, so they underestimated its size, guessing it might weigh 45 pounds. When they returned to shore, Joe Placzek, owner of Tri-Lakes Rod & Reel advised them to get the big fish weighed as a possible state record. They were amazed when the certified scales at Shepherd of the Hills Fish Hatchery registered 56.35 pounds.
"This was unexpected," said Greg. "We expected to catch one, but we didn't realize they would be this size."
If you catch a fish whose size surprises you, consider the possibility that it might be a state record. A complete list of Missouri fishing records is available online at www.missouriconservation.org.